Audience and Training Goals
This training is intended for engineers, managers, and support staff interested in using NIR spectroscopy to solve their process and material identification problems.
It is designed to enable MicroNIR customers to use full potentiality of NIR and especially of MicroNIR during their daily activities.
MicroNIR™ Product Family
The MicroNIR family of spectrometers are the next generation ultra-compact, near-infrared spectrometer sensors and analyzers solving customer needs across multiple industries. The MicroNIR spectrometer's costeffectiveness, exceptional performance, and ease of use have allowed for wide adoption and greater flexibility in installation and scalability of near-infrared spectroscopy
solutions. Data and information about processes or materials can be obtained from a network of operations or locations, and used to continually optimize and improve the process, enabling smarter factories and farms.
MicroNIR™ Academy Agenda
During the 3 days we will cover both theoretical and application aspects, including deep training on MicroNIR Pro 3.0 software and practical sessions.
Main topics are:
• NIR Theory
• Design of experiments
• Principal Component Analysis & cluster analysis
• Qualitative analysis (DA, SIMCA; SVM, etc)
• Basic software operations
• Data analysis
• MBSD and PCA on line
• PLS for quantitative analysis
• Realtime measuremnts
• Audit trail and compliance mode
• OPC DA/UA communication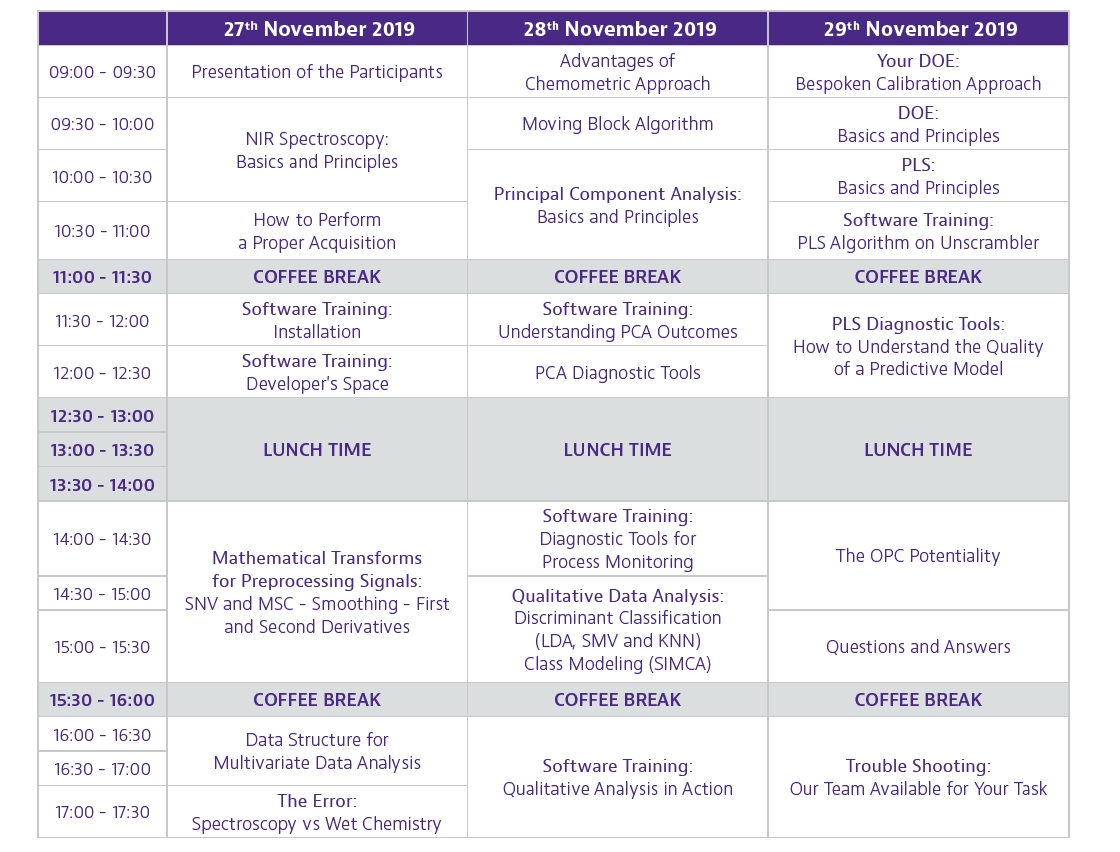 Academy Information
Training sessions will be held in the VIAVI Solutions office in via Cernuschi 8, 20090 Monza MB, Italy.
We suggest accommodations at:
Monza (7-10 minutes walking distance)
Antica Trattoria Dell'Uva, Piazza Carrobiolo, 2
Hotel Royal Falcone, Corso Milano, 5
Hotel Karol, Via Cortelonga, 8
Price $2,000 before VAT for 3-day training. Deadline
for registration November 14th, 2019.
For more information and to register, please email
or call our offices:
info@iner-tech.com
072-2122880